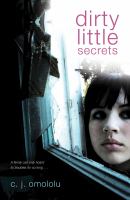 DIRTY LITTLE SECRETS
by C. J. Omololu
Lucy lives in a junk-filled house with her hoarding mother, but when Lucy has a chance for some normal teen happiness, she goes to even greater lengths to hide the truth about her home. This book offered a not-talked-about psychological issue that made it hard to put down. I really enjoyed the story, completely felt for the main character, and wondered about her future when I reached the end. The whole story takes place in 24 hours yet feels more than complete. Very well done YA.
FRONT PAGE FACE-OFF
by Jo Whittemore
Delilah wants her articles to grace the front page of her school newspaper, but when a French exchange student threatens her position and dates her crush, Delilah is forced to pledge The Debutants to get even…and get what she wants. I liked how the cliques didn't follow cliched rules, the MC was smart and not perfect, and the story and friendships flowed. Nice tween novel.
FLIRTING WITH DISASTER
by Rhonda Stapleton
Felicity continues her job as a Cupid and accidentally hooks up the whole school with her crush and works through her bff's first bf drama for which Felicity is to blame. I laughed out loud at some lines in this novel like I did in the first of the trilogy (references to butt bows). It followed well and showcased an MC with flaws, personality, and a sense or humor. Despite the fantastical cupid job the MC has, the story, characters, and relationships still feel like how I remember high school. The surprise ending was a nice twist and I will definitely read the third installment of this chick lit YA series.